BEST CENTRAL PARK CEREMONY LOCATIONS
---
A guide to the best Central Park wedding and elopement ceremony locations complete with tips, lighting concerns and suggestions to help you decide which location may be best for your wedding. Please reach out if you have any questions. And if you'd like to see more photos or additional location suggestions, please contact me, I'm happy to help!
For additional info on permits and officiants for Central Park nuptials, visit this page.
---
LADIES PAVILION
---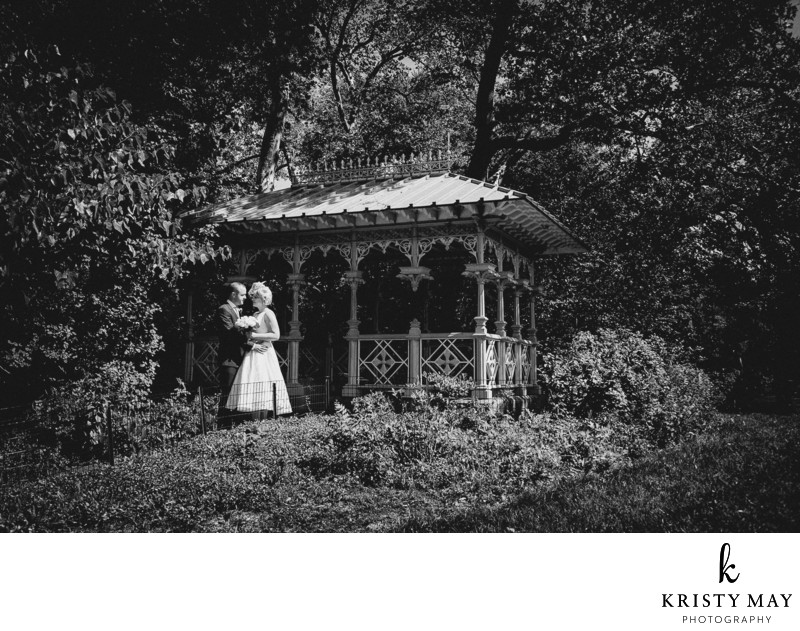 A bride and groom pose for a portrait following their ceremony at The Ladies Pavilion in Central Park.
The Ladies Pavilion is an ornate cast iron Victorian shelter built in 1871 and moved to the current location in 1912. It is an ideal location for an intimate wedding or elopement given the cover it provides in case of rain. I will caution if you are seeking a private ceremony that the location is popular with tourists and parkgoers who like to climb on the rocks nearby and frequent the paths around the pavilion. I suggest a weekday morning ceremony for the least amount of traffic if that is a concern during the Spring-Fall.
Ceremony Site: Yes
Permit: Yes, suggested
Size and Guest count: Gazebo, max. 20-25 ppl
Traffic level: High, especially on nice days and afternoons and park goers can't easily avoid the area
Foliage and Flowers: mostly foliage
Condition: Well maintained with two benches. Birds will nest in the columns occasionally in the Spring for an added experience.
Best time for a wedding: morning on a weekday for more privacy
Location in park: close to 77nd St. and West Drive
Weather: Sheltered, ok for rain or snow
Fun Fact: The inlet near the pavilion was originally used for "ladies only" ice skating. Eventually the ladies preferred skating with the men in the main section of the pond because it was the only time they could hold hands in public! That is where the name of the pavilion originated.
---
THE BOW BRIDGE
---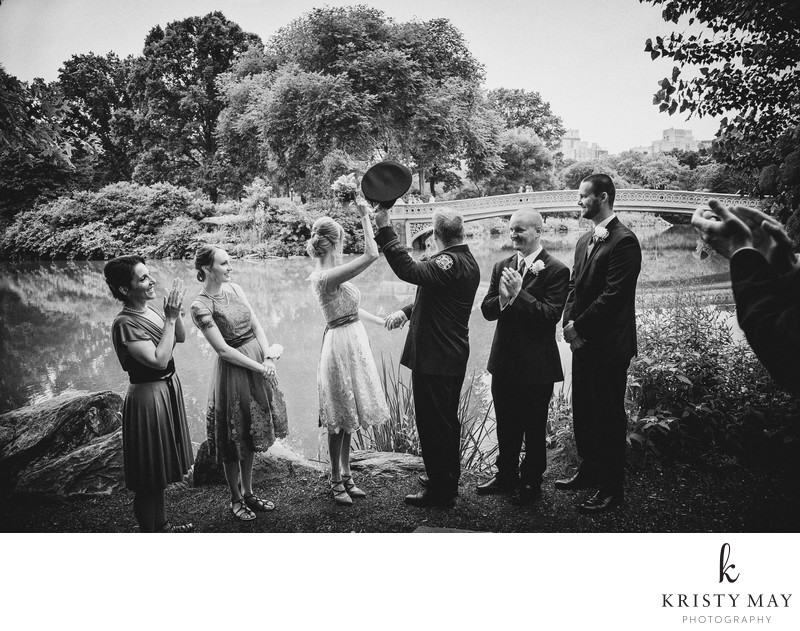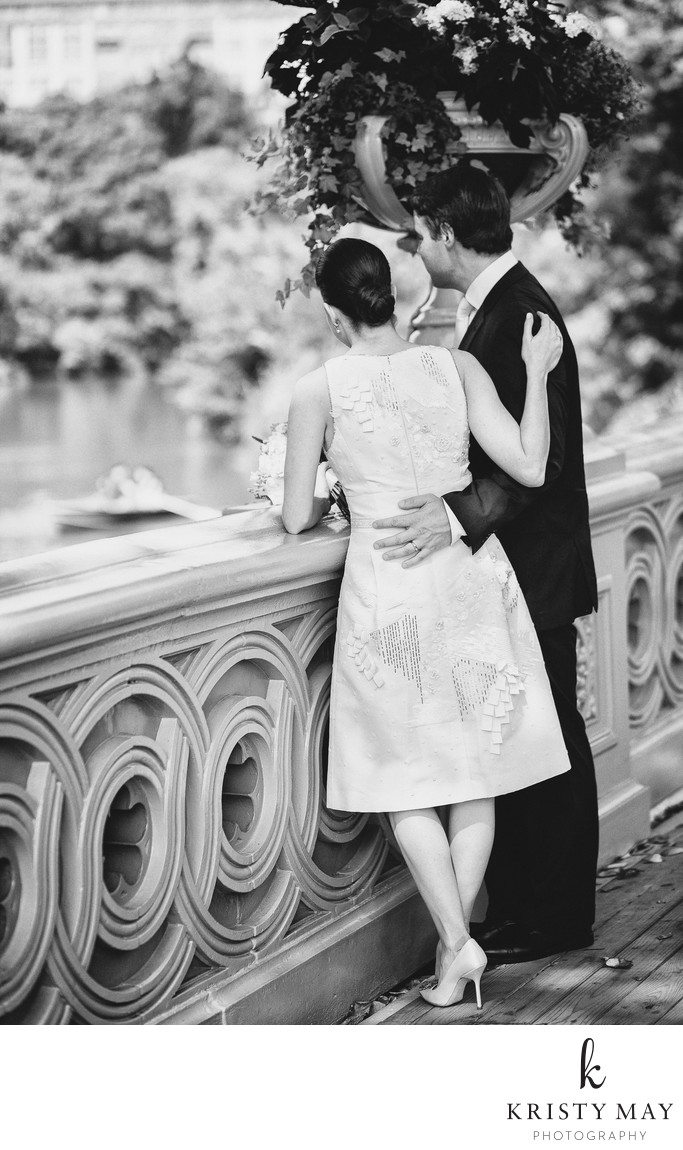 The Bow Bridge is one the most iconic features of Central Park. The cast iron bridge was designed by Calvert Vaux and Jacob Wrey Mould in the Classical Greek style. It was completed in 1862 and is the longest bridge in the park. Boaters during the warm months travel under the bridge and the setting is quite picturesque. As a wedding ceremony location, it is not an especially private one given the traffic from pedestrians crossing it.
For a small ceremony with an officiant, the couple and photographer, it is advisable to have a weekday morning ceremony when the park is less crowded Spring through Fall. There is another location nearby offering a view of the bridge I often suggest to couples where the bridge can be in the background. There is a bench and it is right on the pond. It isn't totally private, as people from the bridge and boats will watch on nice days, but less traffic than on the bridge itself. I suggest this location for midday or later afternoon weddings or on overcast days preferably not the morning as it is totally in the shade and the bridge in the sun making it difficult to be seen in photographs without heavy flash usage.
Ceremony Site: Yes
Permit: Yes, if desired
Size and Guest count: (max. 20-25 ppl.)
Traffic level: high, mornings less but varies with weather
Foliage and Flowers: potted urns changed out seasonally
Condition: newly painted and restored
Best time for a wedding: Morning or Evening
Location in park: Middle near Bethesda Terrace
Weather: No shelter, however the Bethesda Terrace is a short walk
Fun Fact:
The Bow Bridge is named so because it is shaped like an archer's bow.
---
BETHESDA FOUNTAIN AND TERRACE
---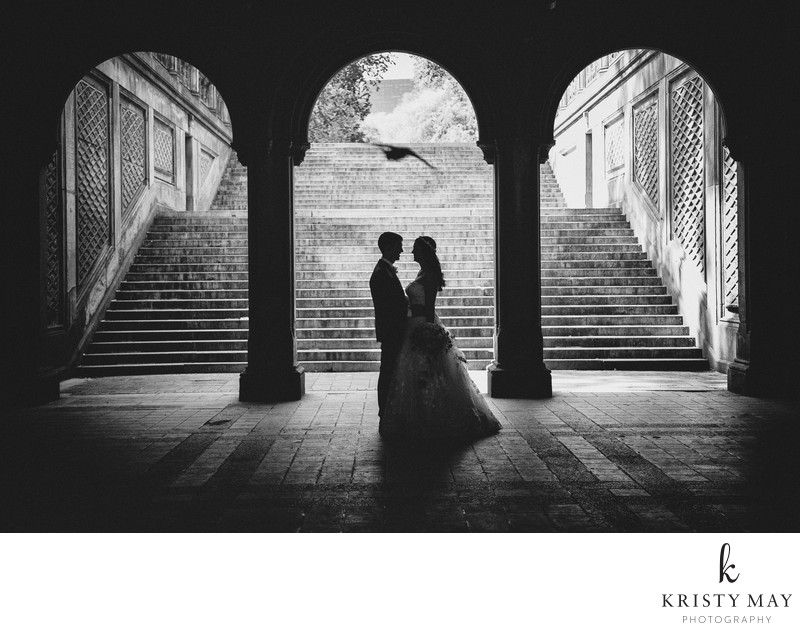 A silhouetted wedding portrait of a bride and groom under the Bethesda Terrace arches facing the stairs with only a bird flying by during the moment. (You have to go early, be lucky or have a rainy day for a photo like this)
A wedding or elopement in Central Park would not be complete without a visit to the Bethesda Terrace and Fountain area. I often imagine clients returning to the spot we take photos in 20 or 30 years with their families to recreate it. The location is iconic for a reason and it is also popular. The wedding ceremonies I have done here have been as back-up when it rains mostly. I would usually suggest another spot for a smaller group unless you are prepared to get married super early (like 8 am) or don't mind having a crowd watch your ceremony. That said, it is a great back-up location and excellent for taking wedding photos.
Ceremony Site: Yes and also popular for wedding, elopement and engagement photos
Permit: Yes, best to check since there are movies, commercials and events done here
Size and Guest count: 25 people
Traffic level: high
Foliage and Flowers: potted plants in urns seasonally
Condition: Excellent
Best time for a wedding: Early due to popularity of location. Typically not accessible during the first/second week in June due to a gala. Check the event calendar on Central Park Conservancy website for specific dates, but the area is inaccessible several days before and after for set-up.
Location in park: Off of 72nd St. Tranverse in the center of the park
Weather: Excellent rain back-up location
Fun Facts:
In addition to turtles and ducks, I also spotted a beautiful falcon one fine day sitting on the stone railing while photographing below. Another fun sighting at the terrace is the bubble men. Totally optional, but some clients like to experience this and if present, for a tip, we can take photos with the bubbles.
The sculpture adorning the fountain, "The Angel of the Waters" (1873), seen in this image, was sculpted by Emma Strebbins. She was a lesbian feminist back in the mid 1800s which is pretty fascinating. Learn more about her here.
---
WAGNER COVE
---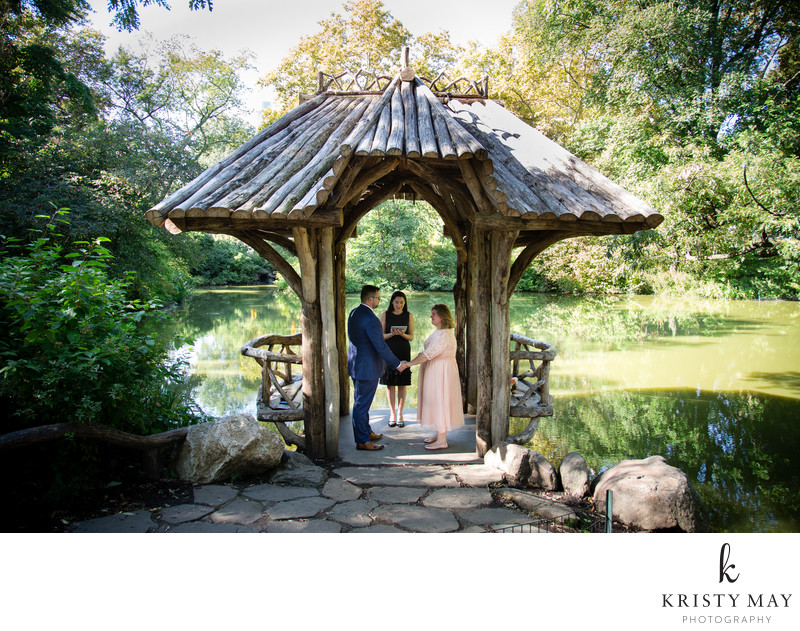 A Fall wedding ceremony by Honeybreak Officiants at Wagner Cove in Central Park.
Situated on a small inlet off The Lake, Wagner Cove is a small Rustic shelter with two benches and a working boat launch. It can accommodate an officiant and about 4 people for a ceremony. The area is quite secluded and offers a more private wedding ceremony option. The staircase leading down to the structure makes for a grand entrance option for the couple or bride. Birds, turtles and ducks frequent the area and provide a nature filled backdrop. I once saw a raccoon in the area as well!
Ceremony Site: yes
Permit: yes, suggested
Size and Guest count: Gazebo, max. 20-25 ppl. (But only a few fit inside)
Traffic level: low
Foliage and Flowers: Lots of foliage during the summer months provide a secluded spot on the pond
Condition: Newly restored after vandalism
Best time for a wedding: Any
Location in park: 72nd St. west of Cherry Hill at the edge of the lake
Weather: Provides minimal shelter in case of rain, but at least for the couple and officiant
Fun Idea: What if guests rented boats at the Loeb Boathouse and paddled over to Wagner cove and watched the ceremony from the water? The bride could enter from the staircase and meet the groom, who arrives by boat (or reserve) and then they meet for a ceremony under the rustic structure. Then everyone could have a picnic on the lawn on the hill over looking the pond for a budget friendly option or lunch or dinner at the Boathouse.
---
DENE SUMMER HOUSE
---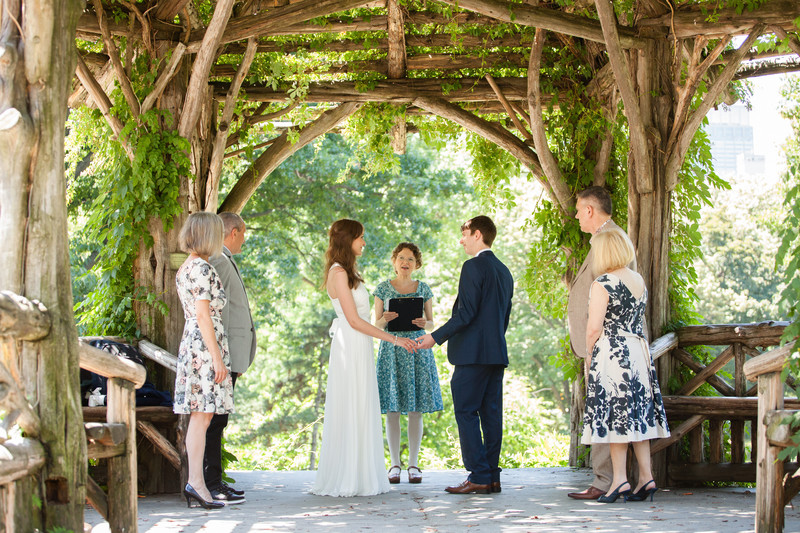 A wedding ceremony by Judie Guild at the Dene Summer House in Central Park.
The Dene Summer House is a rustic structure overlooking the Dene Lawn near 5th Avenue and 67th Street in Central Park. It sits perched on a rocky hill and is covered with vines and foliage in the Spring through Summer. It offers a more private location for a wedding ceremony because park visitors can't easily access it and will usually go around when they see a ceremony in progress. The only negative to this location is the structure itself. The beams create harsh shadows in the months when foliage isn't present and where it doesn't cover. I don't suggest it during early Spring or Winter for this reason on a sunny day unless there ceremony were early in the day or later in the evening.
Ceremony Site: yes
Permit: You can't permit it, but you can the lawn below it
Size and Guest count: 20-25 ppl
Traffic level: low
Foliage and Flowers: Covered with vines and some flowers in the summer months through fall
Condition: rustic, may require sweeping in fall
Best time for a wedding: the sun does cast a harsh shadow in months without foliage overhead due to construction. I would suggest avoiding on sunny days if possible in early Spring and winter. Possibly an early morning or later evening ceremony
Location in park: West of 5th Ave and 67th
Weather: Minimal shelter from rain when foliage present
Fun Fact
The Dene Summerhouse and adjoining landscape, the Dene Slope, a trail with a meadow, wildflowers and rustic seating, was designed to be a refuge from the busy city nearby.
---
RUSTIC BRIDGE
---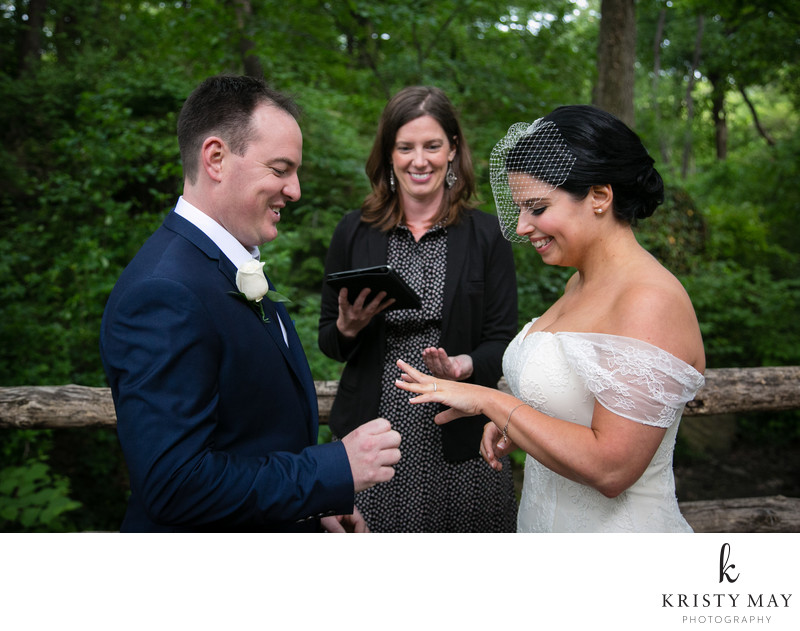 An intimate wedding ceremony by Officiant NY on a rustic bridge near the Stone Arch at 77th and Central Park West.
There is a lovely rustic bridge near the Stone Arch at 77th Street. The path is frequented by walkers and others, but a short ceremony can be done there with minimal distraction. There is a small brook that flows underneath and foliage and trees surround. There are additional rustic bridges in the park that may work as well.
Ceremony Site: yes
Permit: no
Size and Guest count: 15-20
Traffic level: low-medium
Foliage and Flowers: Foliage
Condition: Rustic
Best time for a wedding: Anytime, shady but frequented by walkers but off mail path
Location in park: Near 77th entrance Stone Arch
Weather: No shelter, but nearby under 77th St Stone Arch
---
GAPSTOW BRIDGE
---

The Gapstow Bridge is the second most iconic bridge in the park after the Bow Bridge. It replaced another bridge on the same site in 1896 that had deteriorated. The stone structure offers a lovely view of The Plaza Hotel and the Southern end of the park overlooking The Pond and of the Wollman Rink in Winter and Victorian Gardens in the Summer. The bridge is a highly trafficked area and it also not wide. Ceremonies done early in the day and in Winter will be fine, however in the Spring- Fall it will be difficult to stop the flow of traffic for a distraction free ceremony. There is a spot that overlooks the bridge across The Pond (below) for a small wedding that can work, but again, this is a very popular location so if privacy is a concern, this may not be the spot for you. However, earlier in the day usually the less traffic.
Ceremony Site: yes
Permit: yes, not needed if small wedding
Size and Guest count: (max. 20-25 ppl.)
Traffic level: high
Foliage and Flowers: Not on the bridge, but in the area there are Spring and Fall blooming and changing trees
Condition: ok
Best time for a wedding: early, due to high traffic but light ok most of day
Location in park: 59th St. Pond, off of Central Park West and 5th Ave.
Weather: no shelter
Fun Fact
When the first and more ornate version of the bridge designed by Jacob Wrey Mould needed to be replaced after only 20 years, this incarnation was built with schist, which is a metamorphic rock. Clearly this time the designer was not messing around and thus over a century later it still stands.
---
SHAKESPEARE'S GARDEN
---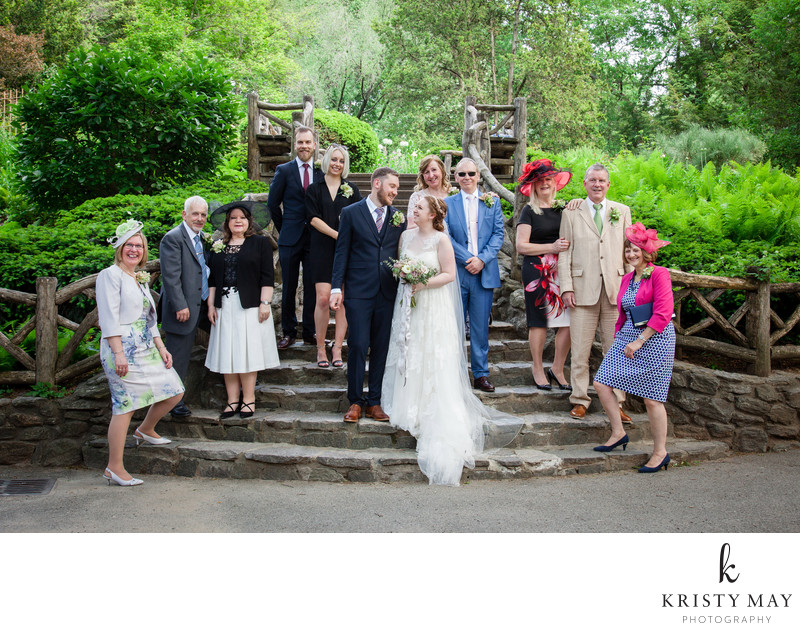 A wedding party portrait following a Spring ceremony on the rustic steps at the entrance to Shakespeare's Garden in Central Park.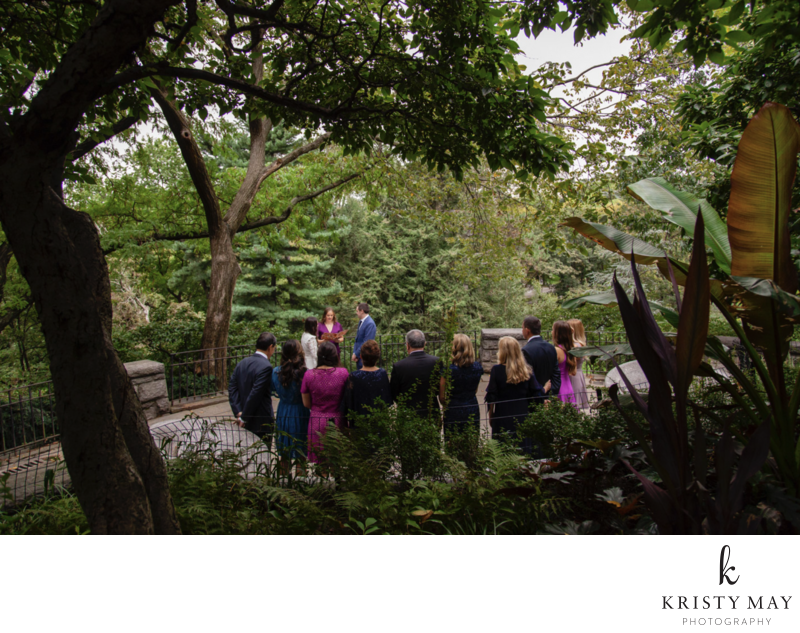 A wedding at the overlook by the Charles B Stover Bench.
The Shakespeare Garden is a four-acre garden landscape featuring plants and flowers mentioned in the bard's plays. The garden was a created in 1913 starting the a blackberry tree from Shakespeare's hometown of Stratford on Avon. For weddings and elopements, the rustic wooden steps leading to the garden and a small overlook by the Charles B Stover Bench are popular locations for ceremonies. Tourists do frequent the garden but I find it to be less trafficked than others and I'm sure a private nook can be found for a small elopement.
Ceremony Site: yes
Permit: yes
Size and Guest count: (max. 20-25 ppl.)
Traffic level: medium
Foliage and Flowers: garden with seasonal flowers and trees
Condition: rustic stairs, winding path and benches
Best time for a wedding: any, but light better later in day
Location in park: 79th St. and West Drive
Weather: no shelter, but there is shelter at Belvedere Castle just up the steps
Fun Fact
The garden is next to the Swedish Marionette Cottage, a delightful place to entertain children of all ages, as well as the Delacorte Theater which hosts Shakespeare in the Park each Summer. For more information on seeing Free Shakespeare in the Park, click here.
---
CONSERVATORY GARDEN
---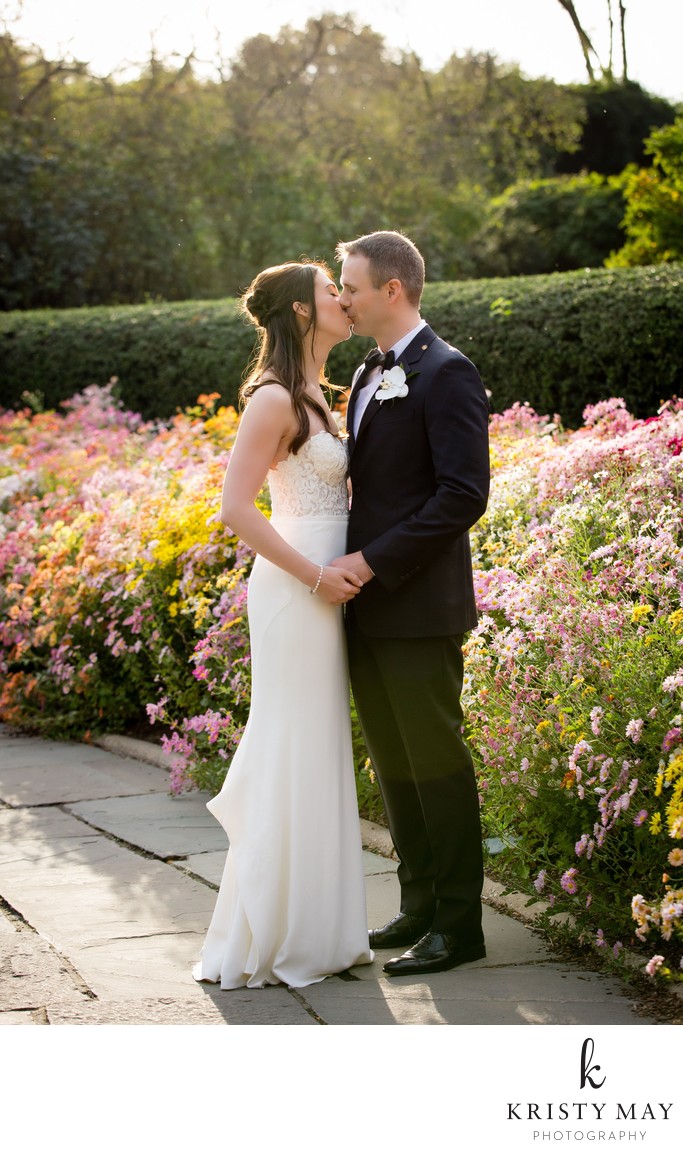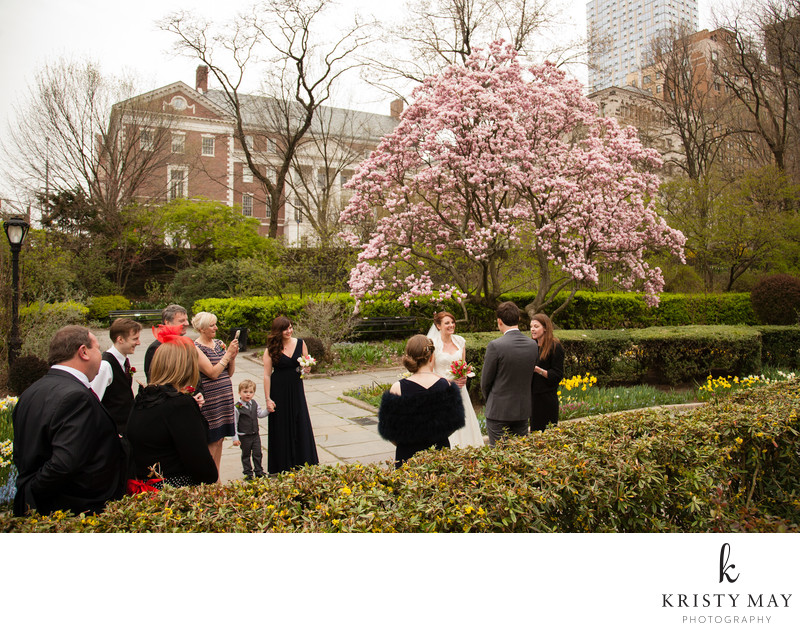 The Conservatory Garden features a six acre formal garden with three distinct gardens, Italian, French, and English, around a large center lawn and allées. The center lawn features a grand fountain with a wisteria pergola behind it. The garden is popular with weddings and charges a more steep fee for ceremonies and photography than the rest of the park and is strict about the time and location you may use within it. However, those selecting the right time of year will be rewarded by the beautiful curated blossoms in their photos especially in Spring when the Cherry Blossoms and Crab Apples in the allees and wisteria pergola are blooming.
There are some definite pros for having a wedding here, however given the location's distance from the rest of the park (if you also want to photograph there), the price and depending on the time of year of your wedding, you may have just as lovely a ceremony elsewhere in Central Park. I'd consider it for a weekend, (bear in mind, there will also be other wedding parties there as well, as I learned they do give out several permits for a time slot) and go early in the day if possible during peak time.
Ceremony Site: yes
Permit: yes, special permit process $400 for ceremony, $100 for photography for 30 mins
Size and Guest count: 100
Traffic level: low to medium, can request to stay clear of the ceremony/photo area
Foliage and Flowers: Varies from time of year, but the formal gardens are well maintained
Condition: Excellent
Best time for a wedding: Spring and Fall when flowers are peak blooming to get best value. Earlier in day would likely be better because gardens are still open to public.
Location in park: Fifth Avenue and 105th Street
Weather: No Shelter. There are bathrooms on site.
Fun Fact
The Conservatory Garden is the only formal garden in Central Park and is also a designed quiet zone.
---
COP COT
---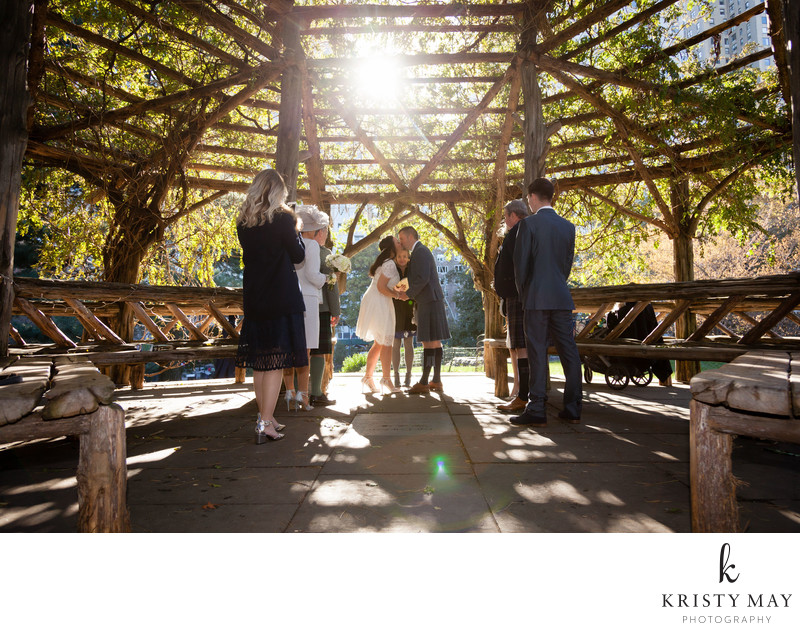 A kiss during a ceremony at the Cop Cot during a Fall wedding in Central Park.
The Cop Cot is the largest rustic wooden shelter in Central Park and sits on a hill in its southern end. It is covered with flowering vines Spring-Fall and makes an excellent location for a medium sized wedding. The only caution I have about the location for related to lighting. Due to the construction, the beams can make hard shadows during mid day when the foliage isn't covering the top of it.
Also, given the proximity to the southern end and tall buildings in the park, I also caution with afternoon weddings in the early Spring, Late Fall and Winter due to the angle of the sun the building will also block the light on the structure, or part of it. Please consult your photographer for the ideal time of day for your wedding at that location as its unique structure and location can present lighting challenges.
Ceremony Site: yes
Permit: yes, suggested
Size and Guest count: max. 50 ppl.
Traffic level: low
Foliage and Flowers: vines cover the rustic structure during the Spring through Fall
Condition: rustic, may need sweeping
Best time for a wedding: Being on the South end of the park the building will block light sometimes during the year. Something to take into consideration for light. Traffic not much of a concern so time of day would be more of a light matter. Late morning to afternoon best bet, narrower window in winter then summer. Ask me!
Location in park: 60th St., close to Central Park South in the center of the park
Weather: Minimal shelter from rain when foliage present
Fun Fact
According to the Central Park Conservancy website, the name Cop Cot might mean "little cottage on the crest of the hill" in Scottish. Sounds fitting to me!
---
BELVEDERE CASTLE
---
Belvedere Castle is one of the most iconic locations in Central Park. The name means "beautiful" view in Italian and it doesn't disappoint. The miniature castle has been offering sweeping views of the park (now the Great Lawn and Turtle Pond) since it opened in 1872. After undergoing a restoration in 2018, it reopened to the public in June 2019. The pavilion overlooks the pond is a popular lookout and location for photos and wedding ceremonies.
Ceremony Site: yes
Permit: yes, suggested
Size and Guest count: max. 50 ppl.
Traffic level: medium, park goers can avoid a ceremony in progress
Foliage and Flowers: None on structures, but visible foliage surrounding area
Condition: Restored in 2019
Best time for a wedding: Anytime, but especially nice with fall foliage changing
Location in park: Mid park, near 79 Street. Not fully accessible as of yet. Plans to modify access are in the works.
Weather: A pavilion offers shelter and when, open, the first floor of the castle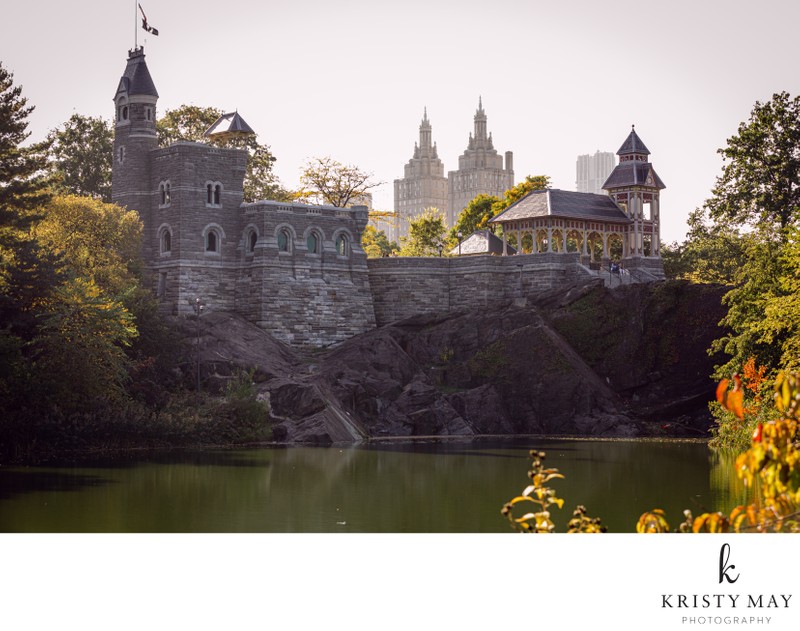 ---
Western Shore Boat Landing
---
This shelter and boat landing is located just opposite the Bow Bridge along the western side of The Lake. It is most easily accessed entering the park at 72nd and crossing the roadway and walking north along the path. For wedding ceremonies, it offers a covered location that is easy to reach and is accessible. Since one can't get a permit for it, the shelter offers a great back-up rain or last minute wedding location.
Ceremony Site: yes
Permit: no
Size and Guest count: max. 10 ppl.
Traffic level: low-medium, park goers can avoid a ceremony in progress
Foliage and Flowers: None on structures, but visible foliage surrounding area and directly on the lake
Condition: Great, it was restored in the last few years
Best time for a wedding: Anytime, but especially when rain is predicted or seating is needed
Location in park: Along The Lake, near 72Street.
Weather: Offers shelter from weather for at least the officiant, couple musicians and or a few guests or attendants
Seating: Yes
CENTRAL PARK WEDDING CEREMONY LOCATIONS