How to get Married in NYC's Central Park
---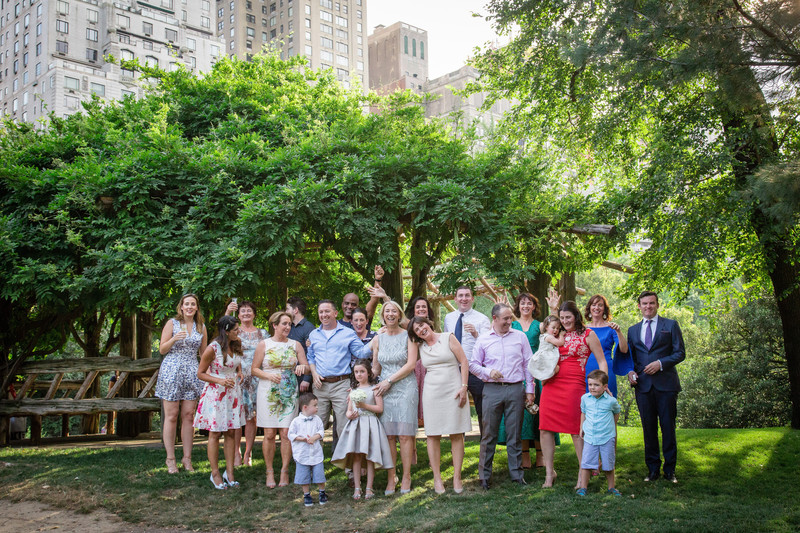 A wedding at the Cop Cot in Central Park.
The Details
---
New York City's iconic Central Park is a wonderful place to get married almost anytime of the year. All you need is a license which you must get at least 24 hours before the ceremony from the New York Marriage Bureau at 141 Worth Street (follow the first step on this page), an officiant to perform your ceremony (see below for my recommendations) and a photographer who knows all the best locations to document it! (Hint, Hint!)
Do I need a permit?
You can get a permit for some locations if you desire or must if you have more than 20 people anywhere, but there are many locations that don't require a permit if you have less than 20 people. For more information, see this page.
Apply for a special event permit for a Central Park Wedding
Where to have the ceremony and when?
Some of the most popular locations requiring a permit to ensure your time won't conflict with another couple are the Ladies Pavilion, The Cop Cot, Wagner Cove, and Shakespeare's Garden. Permits are $25 and can be bought via the park's website with 30 days notice. You can have acoustic but no amplified music with that permit.
In terms of picking a date, the park is lovely and different in every season!
However, there is one time of the year I suggest avoiding planning a wedding if you want photos around the Bethesda Fountain and Terrace. In 2020, that area will be hosting a gala for the Friends of the Central Park Conservancy on June 3rd. (They do it every year around that time) The terrace will be unaccessible the day of, two days before and after the event. Avoid scheduling a wedding in Central Park June 1-5, 2020. If the terrace area isn't important to you, there are plenty of other areas in the park to marry and take portraits.
For my top 10 favorite locations for wedding ceremonies in Central Park and tips and suggestions on when, visit this page.
The Conservatory Garden is another option for a Central Park Wedding. Ceremonies there cost $500, including the photography fee. It is a nice option for the Spring when the flowers are in bloom, but I'm not sure the cost justifies it otherwise. However, it is more private and more quiet than the other locations but it is also far from the most popular areas of the park I tend to shoot in.
What about the weather?
For inclement weather, the Bethesda Terrace is a great location and I also like the Ladies Pavilion since it is also covered just in case. I have to say, no matter the weather or time of year, Central Park is a beautiful location for an elopement or intimate wedding. I actually love the park in a light rain and I have a clear golf umbrella I bring to weddings where that is needed.
Where will we take photos after the ceremony and how will we get there?
By far, the best way to get around Central Park is walking. I highly recommend bringing another pair of shoes if you are wearing high heels or any shoes that will be difficult to walk in. We typically spend at least an hour walking around for my typical weddings. I'm happy to carry a small bag for you if needed while we are shooting.
As for locations, there are so many to choose from! After you select your ceremony location and let me know if you have any plans after and any location preferences, I will make a plan for locations to visit. We almost always visit the Bethesda Terrace Fountain area and The Mall, but others are more optional and will vary on the time of year, day, weather and how busy the park is.
Recommended Officiants for Central Park Ceremonies
---
Officiant NYC
I've had the pleasure of working with Suanne and her associates on numerous occasions and it is always a pleasure! Professional and thoughtful, she and her team deliver unique and meaningful ceremonies in any location. Her website is www.officiantnyc.com.
Officiant - Rev. Annie Lawrence
Rev. Annie knows how to work a room and make even the most nervous couples and their families at ease! Her website is www.revannielawrence.com.
Officiant - Judie Guild
Judie goes above and beyond to make her clients day special. Even if that includes going back to their hotel to get a forgotten marriage license! Her website is www.getmarriedny.com.
Honeybreak Officiants
Mirelle make marrying outside of City Hall a breeze. You'll also want to follow her on Instagram at @honeybreakofficiants. Her website is honeybreakofficiants.com.
For additional wedding vendors, click here.
HOW TO GET MARRIED IN CENTRAL PARK