---
Guide to Albums - Queensberry
---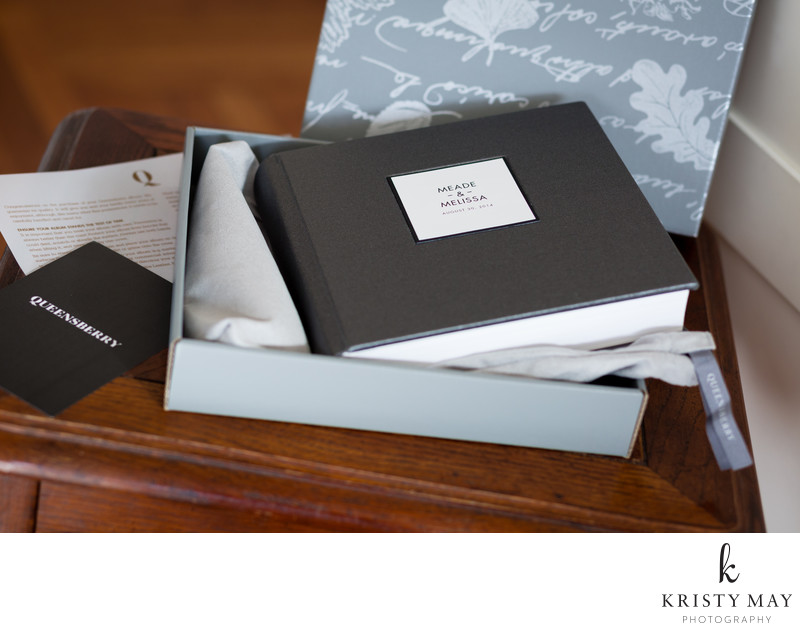 ---
Queensberry albums are top of the line custom photographic books designed to last for generations. The books are made to be heirlooms using the finest book making techniques by artisans in New Zealand. Choose from flush mount, matted, and duo (combination of both page type) albums. Standard albums come in with a cover motif with text (see above) or an image and a translucent title page and durable buckram. Upgrade to leather cover and debossing.
See options and samples in depth here.
---
Queensberry Album Base Pricing
---
The standard flush mount album comes with 20 pages/60 images in Faux Leathers, Silks, Buckrams, Linens with cover motif and optional translucent cover page. Upgrades to an overlay matted or duo (flush mount and matted pages) available.
12x12 $1550
10x10 $1350
8x8 $1100
Additional sizes are available
Copy Albums, identical flush mount versions
Album Suite
One 10x10 couple's album and two identical 8x8 copy albums in Silk or Buckram with cover image, 24 pages and 80 images and optional translucent cover page, $2450
Parent Albums
Parent albums are offered at a 25% discount if the couple has ordered an album. Must be ordered at the same time as the couple.
Upgrades
Blind Embossing on Cover +40
Leather Cover 8x8 (+50), 10x10 (+75), 12x12 (+100)
Micro Leather Cover 8x8 (+35), 10x10 (+50), 12x12 (+60)
Photo Cover (Half or Full) +75, +150
Overlay Matted Upgrade +125
Duo +200, +250 for 12x12
Additional spreads (two pages, approx 6 images) +100, 110 for Duo
Bulk image/spread upgrade, 10 pages/30 images, +350, 375 for Duo
Custom translucent title page, starting at $25
Custom logo prices on request
---
Ordering Process

---
When you are ready to start working on your prepaid album or place a new order, please begin by creating an account in your online gallery if you haven't already done so. There is a $500 deposit for new album orders, which will be applied to the final invoice.
From start to finish, it can take 2-3 months for standard turnaround time after submitting your favorite images. This will depend on how quickly clients respond to design drafts, retouching feedback as well as the album company's own production schedule, which can vary. To receive your album in time for the holidays, please have your favorites submitted to me no later than October 1. All album designs must be approved by October 31 to guarantee holiday delivery.
For access to your gallery (if wedding was before end of April 2018):
For weddings end of April 2018 and after, find your wedding here.
Use the heart icon to add images to Favorites. File names are below the images in this mode. Use this number when referencing images to me.

Step 1 - Favorites
---
On the right side in your gallery, there is a Log-In button. Click it and follow the instructions to make an account. After you do so, you can add images to Favorites by clicking on the heart below the images in thumbnail mode, or on Favorites in the upper, left menu in the large viewing mode.
When you have selected the images you'd like or you want to share them with me for my opinion or help in narrowing down, just email me and I'll take a look. Want to add more than the standard 60 images/20 pages? You can add images in multiples of 6 images/2 pages to your album. (Price depends on album type.)
Once you have shared your favorites with me, check out the album options here. We will schedule a time to discuss the options and place the order. I'll send an invoice for any upgrades and request payment for the album retainer.
---
Step 2 - Retouching
---
After I get your favorites, I will retouch them. If you have any specific requests, please email me the image number and what you'd like done. I include basic skin retouching, cropping, teeth whitening and black-and-white conversion and will also remove things like exit signs and distracting elements. If your requested change falls outside my included retouching, I'll let you know what the additional charge would be. I am able to do many things, including slimming body parts, head swapping and stray hair removal. Just ask.
Once I am done (usually 3-5 business days, but up to 2 weeks during peak season), I will send you a gallery to review.
---
Step 3 - Cover Option Select & Design
When the image retouching is approved, I will submit your photos to be placed into the album design, and in another 3-5 business days, we should have a first draft. You will be able to leave comments to request changes. Once you are satisfied with the album, it will go into production.
I will send an invoice prior to submission for any upgrades for prepaid albums or for the final balance for new orders.
---
Step 4 - Album Processing and Delivery
---
4-6 weeks later, your album will arrive! Shipping via FedEx with insurance is included. Please let me know if you have changed addresses. Due to the high value of the albums, I will need an address where someone can sign for the package.