Engagement Session Planning Guide
---
An engagement session is a great way to get fresh, professional photos of the two of you for your wedding website, your save-the-dates, a wedding announcement or just because. Therefore, it is also a good way to get to know you photographer, especially if one or both of you are a bit uncomfortable having your photo taken.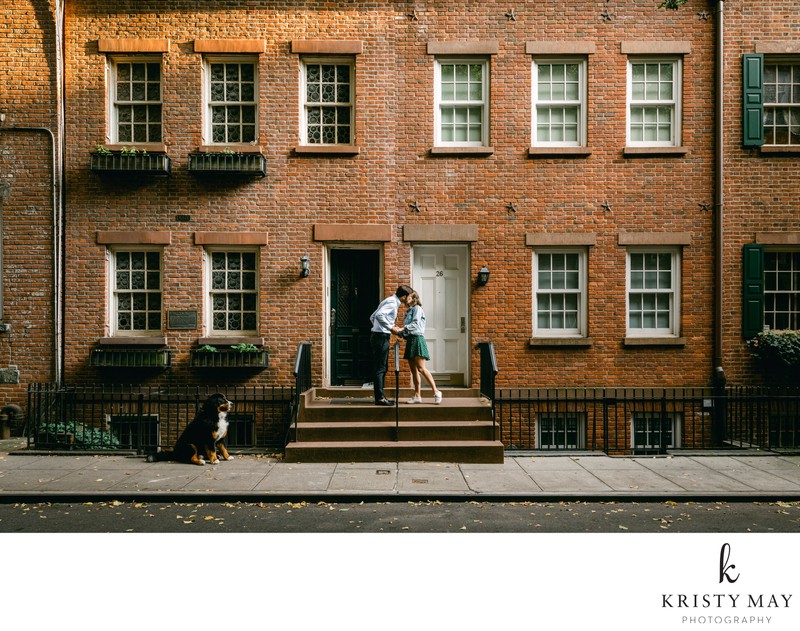 A rare find, true love and no cars on the street during this West Village engagement session!
---
THE EXPERIENCE
---
For many couples, an engagement session will be your first experience on a professional photo shoot. You are likely worried about how you will look and what poses you will be in. Am I right? Some couples are naturals while others struggle with awkward poses and need more direction from the photographer. Therefore, you should be upfront with your photographer if you have any specific concerns. (For example, "My spouse hates being photographed," "He always does something strange with his chin in photos," etc.)
Portrait sessions are collaborative and turn out best when you share your fears or concerns before and during the shoot. Your photographer will know some poses and tricks to help you fall into a natural-looking position. However, you gotta bring the love! That is the whole purpose of the session, capturing the two of you in love at this special time in your lives. So turn off and hide the cell phones and focus on each other. Flirt. Get close.
My goal is to have it look as natural and most like "you" as possible. If you will feel uncomfortable having photos made in public, pick a less trafficked location. If you aren't comfortable in front of the camera, be aware it may feel awkward at first, but after 10-15 minutes, it should feel fun and more natural to be close with your soon-to-be spouse.
TIP: Get close, flirt, move around. Relax and be with each other as you are, and let your photographer make suggestions to improve the pose.
---
TIMING
---
The best time to do your engagement session would ideally be 8 months to 1 year before your wedding. However, I've actually done them a few days before the wedding. I recommend morning sessions for locations that tend to get busy and, if at all possible, weekdays. Otherwise, evenings are another option as the light is nice.
If you are looking for spring flowers and trees, schedule your session in April (usually mid) through early May. If you are looking for fall leaves, mid/late October to early November.
TIP: The most popular times of year in the NYC area are April-June and September-October.
---
CLOTHING
---
I suggest wearing colors in the same tonal family (all bright, all muted, all neutrals, etc.), dressing the same level of casual or more dressy, and avoiding large or distracting prints and text. (Subtle prints and textures work just fine) It is also better to let one of you have a little flair than be both in solids, for example. When in doubt, you can send your photographer a snapshot of outfits laid out. In addition, you will also want to have a pair of shoes you can walk in for in between, if your shoes for the photos will be not the best for walking.
TIP: Avoid wearing greens in a park setting in the summer months as not to blend in. Consider Rent the Runway or similar service if you don't own the attire you require. You can schedule an appointment and try on different options at its NYC store.
---
BEAUTY
---
I ALWAYS suggest having professional makeup and hair (unless you are VERY good at this yourself). (See my vendor recommendations here.) This is less important for the engagement session because it will only be a short shoot compared to a wedding day. However, there are still many benefits. Even if it won't be the same look, it can give you an opportunity to work with your makeup artist and stylist and watch for any potential issues that could be a problem on the wedding day. If it will be hot or cold, professional makeup can hide shine or keep your nose from looking red longer.
Most important, professional makeup will look better on camera and, after all, engagement photos are an investment!
TIP: Professional beauty services are an important investment in your engagement photos. Bring oil-blotting wipes for the guys if warm!
---
LOCATIONS
---
Some of my favorite locations for engagement sessions around the New York City area are:
Central Park
DUMBO
West Village
Red Hook
Greenpoint/Williamsburg
Brooklyn Heights
Coney Island
Your favorite places to be together
It is always wonderful when we can include something personal in the session -- your neighborhood, pet or favorite restaurant or cafe, for instance. It will be fun to look back on this time in your life in years to come and remember those unique spaces of your lives.
TIP: An ideal location would be one that has many areas within a close walk that are great spots to shoot. You don't want to spend a lot of time traveling during your session.
---
WEATHER
---
Thankfully with an engagement session, it is usually possible to reschedule with your photographer in the event of inclement weather. You also want to think about how the heat or cold would affect your experience and, if possible, try to schedule your session at a more ideal time. (If you know your soon-to-be husband sweats easily, don't plan a session in July or August! Select a cooler month like October or April, if possible.)
TIP: Forecasts tend to not be as accurate farther out. Start checking the weather two days before and make a final decision the night before or the morning of, when hourlies are available. However, be prepared when scheduling near rain -- even the hourlies can be wrong, and the showers can move up or back on the day of. It is just really hard to predict the weather!
See my engagement session gallery here.
ENGAGEMENT SESSION PLANNING TIPS