Intimate Wedding Location Ideas
---
Perhaps you postponed your original wedding plans due to the Coronavirus but want to get married this year? Or you love the idea of a small wedding just about the two of you.
Whatever your reason for wanting a small wedding, below are my top location ideas for intimate ceremonies in the NJ, CT and NYC areas. Outdoor locations where everyone can observe social distancing are going to be the safest for you and your guests.
This is the beginning of a list meant to inspire and inform. As things change, I will be expanding and updating it!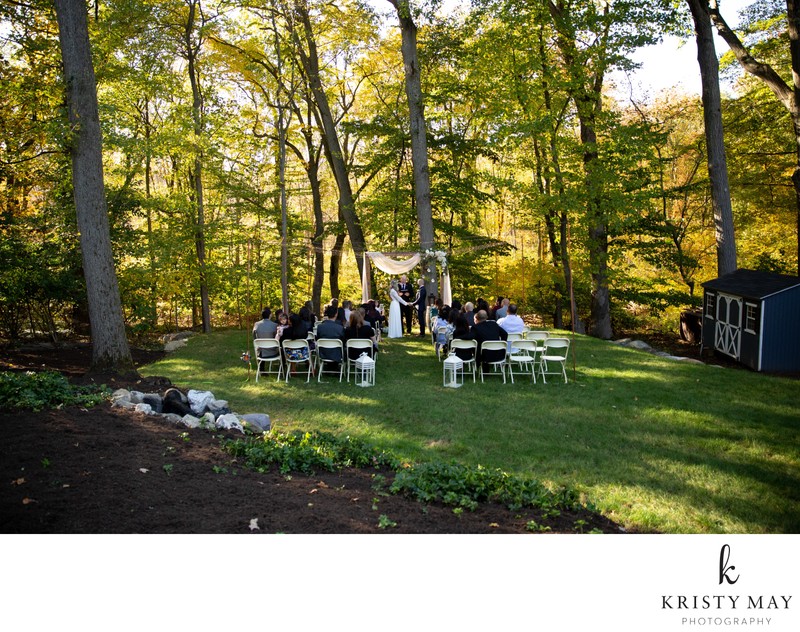 A wedding ceremony in a backyard in Stamford, CT pre-pandemic.
Affordable or Free Ceremony Locations
---
Private Property
Your backyard or a friend or family member's may just be the perfect location. Look for a nice backdrop for the ceremony and ample space to keep social distance. Free
Public City Parks
While many parks around the region have been closed during the pandemic, most are open again. Besides popular options like Central Park, smaller neighborhood options or waterfront areas (like Pier 35 along the FDR which overlooks the Manhattan Bridge or Transmitter Park in Greenpoint, Gantry State Park in LIC) may provide a great backdrop and be less crowded.
Opt for a morning ceremony in a place like Central Park or Brooklyn Bridge Park. In NJ, there is Liberty State Park. Free, but choice locations in Central Park require a $25 permit to guarantee you are the only wedding there. Permits are being issued again but only for 2020. Check back for 2021 in November.
Governors Island is reopening on 7/15 with required reservations for the ferry. There are amazing views and locations for an intimate wedding here. You can bring your own food or visit the food trucks on the island. Learn more here.
Your Apartment Rooftop
If you live in NYC, it may be possible to use your building rooftop for a ceremony and portraits. Check with your building to see if that is an option. Probably free
On The Street
In NYC you can literally get married and take photos anywhere you like that is public. (But you can't obstruct an area or use a tripod without a permit) While private property (squares or parks on private property with public access) should be avoided, there are many beautiful spots in DUMBO, Brooklyn Heights, and the West Village, even Bushwick or Greenpoint we can explore.
However, I don't suggest places like Grand Central Station and the Brooklyn Bridge (unless at sunrise) at this time due to crowding. Free
Public Beach/State or National Parks
These areas will be generally open with restrictions including closed boardwalks and other facilities. Check with the town where it is located to determine if the beach or park is accessible and ceremonies are allowed. The views from Gantry Plaza State Park in NYC are amazing. Site fee or permit may be required
Get Creative or Meaningful
Does someone in your family or a friend have access to a potential ceremony location? I'm happy to discuss your unique location ideas!
Mid-Price to Luxury Ceremony Locations
---
Not all of these locations have reopened yet. Contact prospective locations to see if they are operating.
Rooftop Bars and Venues
With outdoor dining allowed, consider Ivy Terrace, Brooklyn Grange, Box House Hotel Events, 230 5th, or Hoxton Hotel (they have a "backyard" space and a rooftop bar). I'd suggest contacting venues with rooftop spaces to inquire about options for private events or reservations as there as likely more options!
Farms/Wineries
Within a short drive of the city, there are ample fields and venues that may be available for a small ceremony and photos. In NJ, consider Laurita Winery or Alstede Farms. Site fee or permit required
Bed & Breakfasts
Often situated in a scenic location, these venues can offer a unique and private spaces for a small wedding celebration. I once photographed a beautiful small wedding at the Tiger House in Hudson, NY. Look for beautiful gardens, backyards or areas near the property for a small ceremony. Site fee or permit required
Airbnb or PeerSpace
Access to a larger apartment or unique location with a fantastic view may be the perfect option. Even better if great photo locations are nearby. Check out this gorgeous Brownstone in Brooklyn that would be perfect for a small ceremony. Site fee required
Wedding Venues
Traditional wedding venues may be able to start offering small on site wedding experiences. Check with venues to see when and if they will be offering this as an option. Many already offer discounted rates for off peak days. Site fee required
Museums
The grounds of a historic mansion or museum would be great for a small wedding and portraits. For example, the Liberty Museum in Union, NJ and the Merchant's House Museum (reopening 7/20) in Manhattan would be perfect for an intimate garden wedding when they reopen. Site fee or permit required
NYC Hotel Terraces or Suites
Normally a great option for intimate weddings or elopements, I will be keeping tabs on reopenings for some of my favorite locations:
Library Hotel
Soho Grand (South and North Lofts plus new terrace suites)
Sanctuary Hotel
Gramercy Park Hotel
Hotel Giraffe
James Hotel Soho
The Crosby Street Hotel (Meadow Suite is amazing!)
The Beekman
All have beautiful rooftop terrace options for intimate ceremonies. Site fee or permit required
Chapels
Your church may be offering a socially distanced ceremony option. For a non-denominational option, All Souls on the UES has a beautiful small chapel or for New Jersey, the chapel and grounds at Allaire Village.
Site fee required
Restaurants & Bars
In normal times, restaurant private rooms, backyards, even wine cellars are used for intimate ceremonies and dinners. Some restaurants are offering inside private dining, outdoor dining or a combination and even yurts or mini heated greenhouses. For the most up to date info, contact venues.
Tavern on The Green - Still Closed
City Winery - City Vineyard
The River Cafe - Open
Milk and Roses - Greenpoint
Follow covid.date.spots on Instagram for ideas.
Private Gardens or Arboretums
Contact your favorite garden or arboretum. Site fee or permit required, varies
Reeves-Reed Arboretum in Summit, NJ,
Bartlett Arboretum & Gardens in Stamford, CT,
The Frelinghuysen Arboretum, Morristown, NJ
Deep Cut Gardens, Middletown, NJ
Central Park Conservatory Garden, New York, NY
Wave Hill
Intimate Wedding Location Ideas