HOW TO GET MARRIED AT NYC CITY HALL
---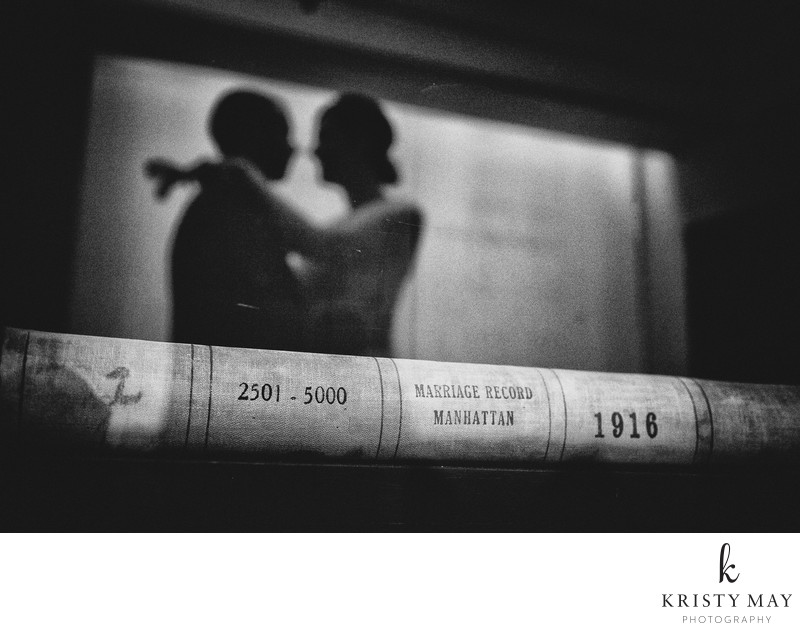 Can You Get Married at NYC City Hall During the Pandemic?
The NYC Marriage Bureaus are closed due to the coronavirus pandemic. Preparations are being made to reopen, but there is no date set. It is also not clear how the process will be changed. You can get a license online and have a virtual or in person wedding with a registered NYC officiant.
I am now a registered NYC officiant! I can sign your license, preform a brief ceremony and take your portraits. I do not do virtual weddings or officiating only. I am also happy to be your back-up officiant or witness.
Can International or out of the NYC area couples come to NYC and get married?
At the moment, June 2021, it is still difficult for couples not residing in the United States (or US nationals) to visit and marry in NY. For couples in Europe, UK and Ireland, it is still not possible for tourists even with full vaccination to travel into the United States. See this map for current entry requirements.
Additionally, it is difficult for out of state couples to get a license to marry due to the requirements of being present in NY state at the time of the appointment and the release of those appointments only a few weeks in advance.
I'm advising International couples to wait until the Marriage Bureau reopens and entry requirement ease. For out of state US couples, contact me if you need help planning to elope here. It is possible, but will require some additional planning.
Where can I get a Marriage License in NYC during the Pandemic?
Online marriage licensing for NYC called
Project Cupid
officially opened on May 8th, 2020. At the moment, it is only accepting applications for licenses and there is a lottery for virtual ceremonies. You have to fill out the form and schedule a virtual appointment with a clerk. The couple must be physically located in NY State for the appointment.
How Far in Advance Should I Apply for a License?
You should aim to get an appointment with a clerk no more than 60 days in advance. Keep checking back for newly added appointments. Follow the NYC Clerk on Twitter for advance notice on appointment releases and more. Register now for when they add appointments.
What If We Can't Get an Appointment in Time or Have an Emergency?
Keep checking for appointments or get a license outside of the city. Any license issued in NY State can be used in NYC. I'm recommending locations where couples have been successful in getting licenses: Greenburgh, Kingston, Oyster Bay, Albany, Yonkers, Babylon but check with other towns and verify requirements.
I have heard they are leaving appointments for emergency situations. Contact the clerk's office about your situation.
How Can we Get Married?
Once you obtain a license, you can use a private officiant to marry you (via video conference or in person). The officiant will then submit the signed license via mail or email so the couple can upload it to their Cupid account. All signing parties must be physically located in New York State at the time.
FAQ on using an officiant for virtual weddings from the NYC Clerk's Office.
FAQ on virtual weddings from the NYC Clerk's Office.
What If You Already Have a License?
The licenses are normally valid for 60 days however on April 18, 2020, Governor Cuomo issued an Executive Order waiver that remains in effect "during the period of time that there exists a declared emergency in New York State." To the best of my knowledge, this order is still in effect. However, if you are trying to get a new license I would make an appointment no more than 60 days before you intend to wed.
When Will the NYC Marriage Bureaus Reopen?
I have no idea. If you are planning a wedding in 2021, I suggest hiring an officiant. (Or hire me, I can be your back-up officiant too) Follow the NYC City Clerk on Twitter and join my mailing list to get up to date info. Even when it reopens, the process may be very different.
---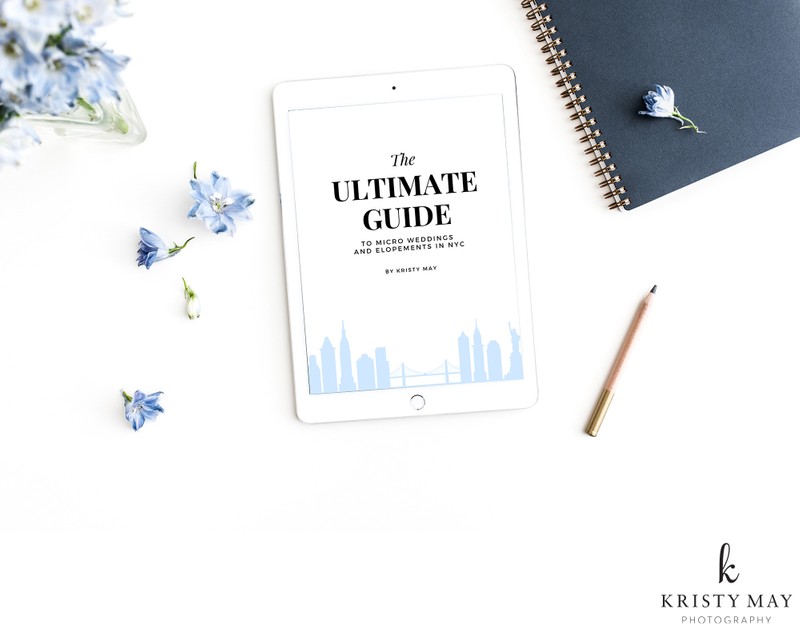 Ultimate Guide to
Micro Weddings and
Elopements in NYC
---
HOW TO GET MARRIED AT NYC CITY HALL (PRE PANDEMIC)
---
To get married anywhere in New York City, you first need to get a license at least 24 hours before you plan to marry. (or you'll need judicial waiver) There is a marriage bureau in each borough in NYC or any license issued in New York State may be used. The two most popular bureaus are the Manhattan and Brooklyn locations. It may save you time and be more convenient to get a license at another bureau.
The marriage license fee is $35 payable by credit card or money order. It is valid for 60 days (or 180 for active duty military). You can start the process online to save time! You will need an ID and possibly additional documentation if you are divorced or your spouse is deceased.
See below for holiday closings and plan travel accordingly to make sure you have time to get the license. For full details, please see the City Clerk's website here.
Manhattan Office - City Clerk's Office
141 Worth Street, New York, NY 10013
Closest subway stations are: 4/5/6 Brooklyn Bridge-City Hall, N/Q/R/W Canal St, and A/C at Chambers St.
Marriage Bureau Hours: 8:30 a.m. to 3:45 p.m., Monday through Friday
Lobbying Bureau Hours: 8:30 a.m. to 4:30 p.m., Monday Through Friday
(Walk-in hours until 3:45 p.m.)
Brooklyn Office - Brooklyn Municipal Building
210 Joralemon St # 205, Brooklyn, NY 11201
Closest subway stations are: 2/3 Borough Hall, R Court Street and A/C/F at Jay Street/MetroTech
Marriage Bureau Hours: 8:30 a.m. to 3:45 p.m., Monday through Friday
Lobbying Bureau Hours: 8:30 a.m. to 4:30 p.m., Monday Through Friday
(Walk-in hours until 3:45 p.m.)
NYC Marriage Bureau Holidays 2021
Memorial Day - Monday, May 31st, 2021
Independence Day - Thursday, July 5th, 2021 (observed)
Labor Day - Monday, September 6th, 2021
Columbus Day - Monday, October 11th, 2021
Election Day - Tuesday, November 2nd, 2021
Veterans Day - Thursday, November 11th, 2021
Thanksgiving Day - Thursday, November 25th, 2021
Christmas Day - Friday, December 24th, 2021
---
WHAT IF I DON'T HAVE 24 HOURS?
---
There is a judicial waiver option for same-day weddings. It is only offered at 11 a.m. and 3 p.m. and you need to have a good reason, such as that you are leaving town the next day, in order to get one.
I've done this with a few clients in Manhattan, so I know how it works. I am happy to offer tips in planning if this is needed, but I recommend arriving at least the day before with enough time to get the license to avoid this extra step.
---
CEREMONY AT NYC CITY HALL
---
Perhaps the easiest and least expensive option for getting married in NYC is having a ceremony at City Hall. (The Marriage Bureaus are temporarily closed. Please see above for info on marrying during the pandemic) There are no appointments, just first come, first served. I've photographed weddings in the Manhattan and Brooklyn Marriage bureaus and the process is the same. Yes, there can be a wait of typically an hour (maybe less in Brooklyn), but it is very affordable and can also be quite entertaining.
For your ceremony needs in Manhattan, there is a gift shop with NYC marriage merchandise, certificate folders and silk flower rentals. However, for last minute floral needs, I'd recommend purchasing flowers from George with City Hall Flowers outside the bureau. His bouquets are affordable and he also sells boutonnieres and rings!
If you are getting married in Brooklyn or would like a more custom bouquet, you will want to pre-order your flowers.
What you need: your license, IDs, payment for $25 fee and at least one witness. Up to two witnesses can sign but they must have valid ID. I am happy to be your witness should you need one!
Here's the typical process:
1. Get marriage license. Wait at least 24 hours. (or get a judicial waiver, see above)
2. Arrive at Marriage Bureau, pass through security. (Leave weapons at home, unless you're a police officer, of course.)
3. Present yourselves and your witness(es) with identification and your license to the clerk. If I am your witness, I will show mine. A ticket will be issued with a number. You only need one witness to be married.
4. The number will be called to fill out the final paperwork. The witness signs, you both sign, and you pay the $25 fee with a credit card or a money order payable to the City Clerk.
5. While waiting we can take photos by the cheesy old City Hall backdrop (Manhattan) or just around the waiting area. Lots of options in the Manhattan location actually!
6. Eventually we are called to present the license to the clerk. Then we wait in the vestibule until the couple's names are called. There are two rooms for the ceremonies which can hold about 20 people with some seating. (only one in Brooklyn)
7. The less than 2 minute ceremony is performed. You may exchange rings. You can't say vows or do any ceremony rituals. If you desire that, hire an officiant and marry in the park or another location.
8. Congrats! You are now married and walk out with your marriage certificate! If you need an extended license ( my UK clients usually do), we can do that then if we have time, or you can return later or do it by mail.
Tips:
The earlier you arrive at City Hall, the less people usually. (However I don't think lining up at 8 am is a good use of time unless it is a holiday)
Fridays and Mondays are generally busiest, but you never know. Expect at least an hour wait, up to two on Fridays.
Avoid popular dates like Valentine's Day, Fridays before holiday weekends, or numerically interesting dates if you don't like crowds.
There is no food or drinks for sale in the Marriage Bureau, but you can bring in your own non-alcoholic drinks.
There is a bathroom and lots of seating.
The buildings are handicapped accessible but the entrance in Manhattan is around the corner on Hogan Place.
You can't get a ticket until EXACTLY 24 Hours have passed. No exceptions.
---
WEDDING PORTRAITS
---
Most of my couples want to include wedding portraits either before or after their ceremony. Often we will take group photos on the steps outside of the marriage bureau if family and friends are present. We can also do a grand exit with bubbles or flowers if you wish!
We often take photos in the area near City Hall, which can include a vintage subway station, City Hall Park fountain, Brooklyn Bridge and the Police Plaza area. Or we can take photos in DUMBO on the Brooklyn side, where there are fantastic views of Lower Manhattan. Of course, we can really go wherever you want and I can make a plan!
---
WHERE TO CELEBRATE
---
Celebrate with a lunch or dinner of your choice at a top NYC restaurant like Eleven Madison Park, Per Se, The River Cafe or even something more casual like Shake Shack. I've even had couples plan a picnic or tea for their guests. It is your day, make it your own!
---
WHAT TO WEAR
---
If you are wondering what to wear for your nuptials at an NYC marriage bureau, almost anything goes. I've seen couples in tee shirts adorned with, Spouse A Spouse B and Witness. There are long gown with tiaras and veils and tennis shoes and jeans. Cultural attire, costumes and kilts. Families all in the same color to give the group a "wedding party" feel. The point is, you should wear what makes you and your future spouse happy and comfortable.
However, I do recommend NOT wearing a very long gown as it is difficult on busy days to get around. (Not to mention NYC streets are dirty!) It will be better for your photos to not be carrying your train or risk people stepping on it. Wearing comfortable shoes or bringing a pair to change into is an excellent idea. Guys, make sure your shoes are broken in!
I am happy to offer styling assistance on request.
---
NYC ELOPEMENT PHOTOGRAPHY
---


If you are thinking about eloping or having a micro wedding in New York City, then let's do it! I've been an NYC elopement photographer for 8+ years now. I've got all the goods on the best locations and plans for an amazing, fun and very New York intimate wedding.
Whether you are looking to tie the knot at Manhattan's Marriage Bureau (FYI- City Hall isn't the actual location!) or would prefer to hire your own officiant and marry in Central Park or anywhere else in the city, there is no shortage of great photo locations. I'd be happy to assist you in planning the perfect elopement or small wedding to suit your style and budget.
Inquire for availability and pricing here.
GET MARRIED AT NYC CITY HALL