How to get Married at New York City Hall's Marriage Bureau
---
If you are thinking about eloping to New York City, then this is the place to be! I've been an NYC elopement photographer for over 5 years now and I've got all the goods on the best locations and plans for an amazing, fun and very New York intimate wedding. Whether you are looking to tie the knot at Manhattan's City Hall or would prefer to hire your own officiant and marry in Central Park or anywhere else in the city, there are no shortage of great photo locations, and I'd be happy to assist you in planning the perfect elopement to suit your style and budget.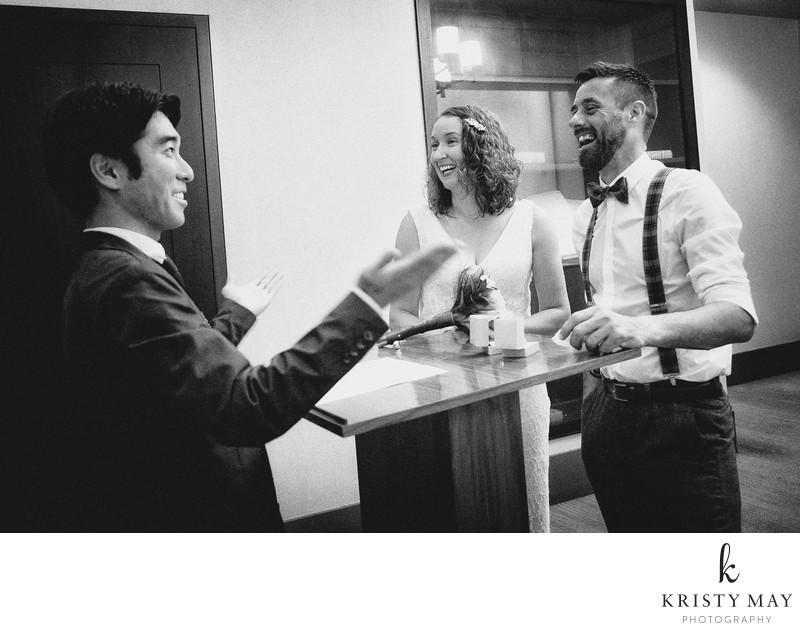 First Step: You Need a License!
---
To get married anywhere in New York City, you need to get a license at the Marriage Bureau at least 24 hours before you plan to marry. This is very important, so check the bureau's website for holiday closings (or see below) and plan travel accordingly to make sure you have time to get the license.
NYC Marriage Bureau Holidays
2019
Columbus Day - Monday, October 14th, 2019
Election Day - Tuesday, November 5th, 2019
Veterans Day - Monday, November 11th, 2019
Thanksgiving Day - Thursday, November 28th, 2019
Christmas Day - Wednesday, December 25th, 2019
2020
New Year's Day - Wednesday, January 1st, 2020
Dr. Martin Luther King Jr.'s Birthday - Monday, January 20th, 2020
Washington's Birthday (President's Day) - Monday, February 17th, 2020
Memorial Day - Monday, May 25th, 2020
Independence Day - Friday, July 3rd, 2020 (observed)
Labor Day - Monday, September 7th, 2020
Columbus Day - Monday, October 12th, 2020
Election Day - Tuesday, November 3rd, 2020
Veterans Day - Wednesday, November 11th, 2020
Thanksgiving Day - Thursday, November 26th, 2020
Christmas Day - Friday, December 25th, 2020
If you plan to marry there, they do have a waiver option for same-day weddings, but it is only offered at 11 a.m. and 3 p.m. and you need to have a good reason, such as that you are leaving town the next day, in order to get one. I've done this with a few clients, so I know how it works and am happy to offer tips in planning if this is needed, but I recommend just arriving at least the day before with enough time to get the license.
City Clerk Office Marriage Bureau
Manhattan Office
141 Worth Street
New York, NY 10013
Marriage Bureau Hours: 8:30 a.m. to 3:45 p.m., Monday through Friday
Lobbying Bureau Hours: 8:30 a.m. to 4:30 p.m., Monday Through Friday
(Walk-in hours until 3:45 p.m.)


TIPS:
Fill out the license application online in advance to save time.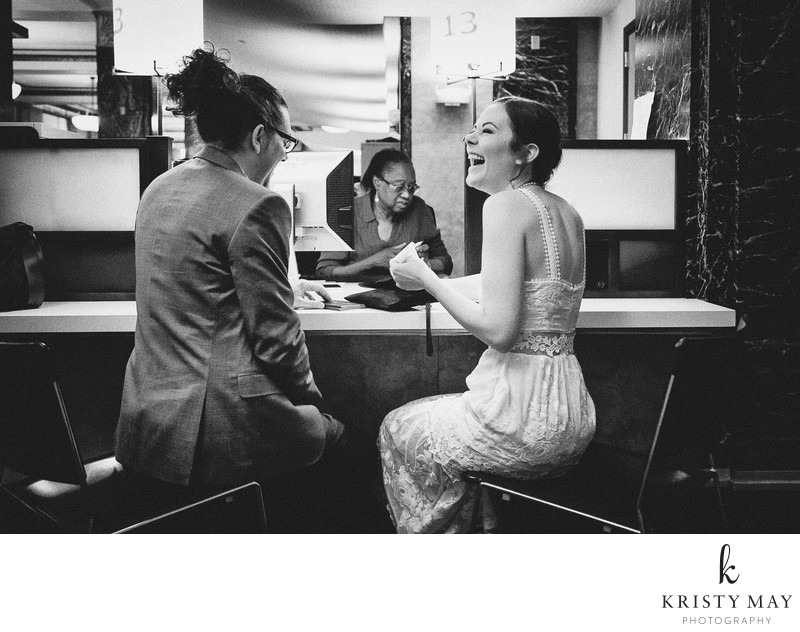 The Wedding Process at NYC City Hall
---
Perhaps the easiest option for getting married in NYC is City Hall. I've photographed weddings in the Manhattan and Brooklyn Marriage bureaus and the process is the same. Yes, there can be a wait of typically an hour (maybe less in Brooklyn), but it is inexpensive and can also be quite entertaining. Here's the typical process:
1. Get marriage license. Wait 24 hours.
2. Arrive at Marriage Bureau, pass through security. (Leave weapons at home, unless you're a police officer, of course.)
3. Present yourselves and your witness with identification and your license to the clerk. If I am your witness, I will show mine. A ticket will be issued with a number.
4. The number will be called to fill out the final paperwork. The witness signs, you both sign, and you pay the fee. Then we wait again. Maybe take photos by the cheesy old City Hall backdrop (Manhattan) just around the waiting area. Lots of options actually.
5. Eventually we are called to station 5 and present the license to the clerk and are told to wait in the vestibule. There are two chapels or rooms. (only one in Brooklyn) On Fridays or busy days, there are two officiants working. Most days, there is only one, so they tend to gather a group, process the paperwork and then marry couples in quick succession.
6. You are called by name into the room for the ceremony! Yay!
7. The less-than-2-minute ceremony is performed. You may exchange rings. You can't say vows or do any special ceremony things. If you desire that, hire an officiant and marry in the park or another location. The room will hold about 20 people, and there is some seating if you have some older guests. But the waiting areas can get crowded, so keep that in mind on busy days. The building is handicapped accessible via a side entrance.
8. Congrats! You are now married and walk out with your marriage certificate! If you need an extended license (seems my UK clients usually do), we can do that then if we have time, or you can return and take care of it or do it by mail.
Often we will take some photos on the steps outside City Hall if family and friends are present, and you can also do a grand exit with bubbles, etc. if you wish. After the ceremony, or even before if it makes sense logistically, we often take photos in the area near City Hall, which can include a vintage subway station, City Hall fountain, Brooklyn Bridge and the Police Plaza area. Or we often take photos in DUMBO on the Brooklyn side, where there are fantastic views of Lower Manhattan. Of course, we can really go wherever you want! Just let me know what you love about New York and want to include in the photos and we can work out a plan.
Tips:
The earlier you arrive at City Hall, the less people usually.
Fridays and Mondays are generally busiest, but you never know. Avoid popular dates if you don't like crowds.
See my blog for ideas for locations for photos after.
HOW TO GET MARRIED AT NYC CITY HALL